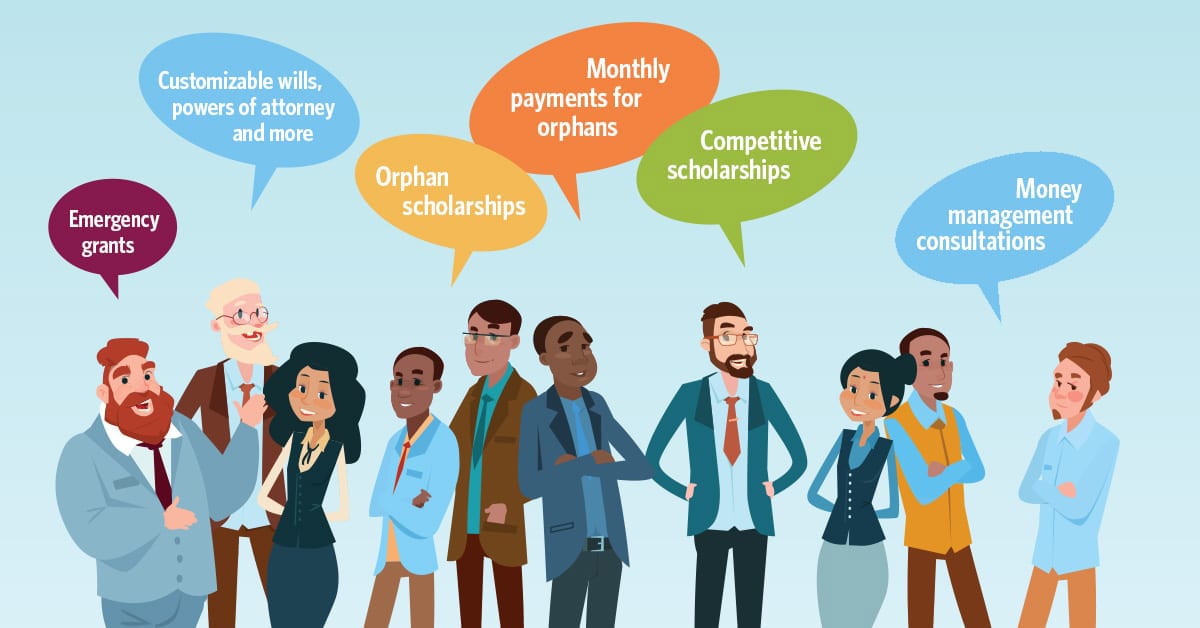 A life insurance policy is packed with benefits that can enhance your everyday life. Upon reviewing your policy guidelines, you may discover there are member benefits included in your life insurance coverage. You could be eligible for exciting and exclusive benefits, which are non-contractual in nature. Member benefits may be subject to change.
Canada Protection Plan's No Medical & Simplified Issue life insurance is underwritten by Foresters Life Insurance Company and therefore provides a set of member benefits for Canadians as well as non-residents with a work or study permit. With our shared vision for community building, the benefits are catered towards individuals pursuing higher education, along with members affected by significant personal hardships. These benefits provide additional value and peace of mind when purchasing a policy. All (and most are complimentary) benefits are designed to improve the lives and well-being of members. To help you learn more about each member benefit, we prepared a comprehensive guide with the highlights and the eligibility requirements.
Are you eligible for life insurance member benefits?
In order to receive these benefits, the prospective members must meet certain eligibility criteria. You should have a certificate or annuity with Foresters Life Insurance Company, which you can obtain via Canada Protection Plan. The in-force certificate should have a minimum face value of $10,000. If you are under an annuity, it should have a minimum cash value of $10,000, or a minimum contribution of $1,000 that was paid in the last year.
For each specific benefit, there may be an additional set of prerequisites that need to be fulfilled. All members are advised to consult the eligibility requirements before applying for the benefits. Once qualified, you will receive the benefits as determined by the terms of agreement. These benefits may be subject to change or cancellation without notice.
Is your family eligible for life insurance member benefits? 
The primary insureds and annuitants under an in-force certificate are eligible for the benefits, along with their immediate family members. Immediate family members are defined as spouses and children that receive member benefits. This also extends to children under the care of legal guardians with eligible memberships.
Junior family members are eligible to receive most benefits, except for the specific benefits that require adult accompaniment for community or member involvement events. Benefits cannot extend to individuals outside the immediate family, such as siblings or distant relatives. An exception is made with the competitive scholarships, which can be offered to the grandchildren of eligible members.
When purchasing a life insurance policy with Canada Protection, you may be eligible to enjoy many of these benefits listed here and more! Contact us for a no-obligation quote.