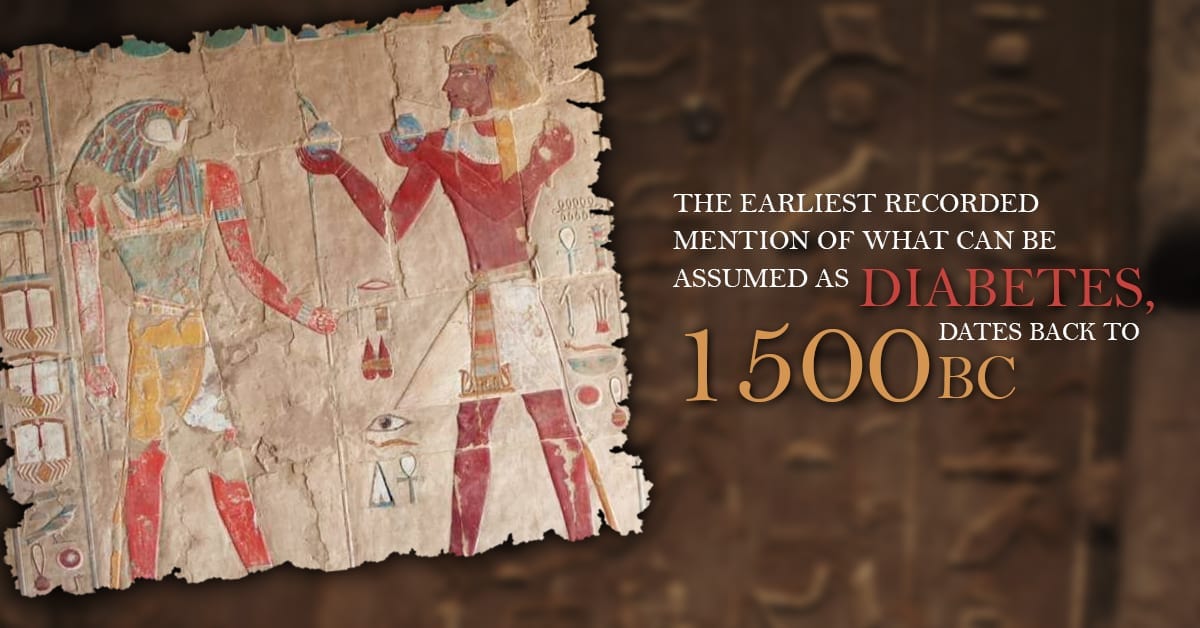 As November marks National Diabetes Awareness Month, discussions on this topic are sure to ramp up. According to Diabetes Canada, more than 3.4 million Canadians are living with diabetes, and another 6 million people are living with prediabetes — meaning elevated blood sugar levels that bear monitoring.
By now, we are all likely familiar with the warning signs to watch for (increased thirst, frequent urination, dry mouth, unexplained weight loss – to name a few) and who is most at risk to develop diabetes (those who are overweight, physically inactive, or likely to inherit it genetically). But there are many lesser known facts about diabetes that could serve as conversation-starters this month.
For instance, did you know that the earliest recorded mention of what can be assumed to be diabetes, dates all the way back to 1500 BC? This was so long ago that it was written on papyrus! Historians concluded that the notation was about diabetes because it included instructions for several mixtures that could help "remove the urine, which runs too often."
Here's another little-known fact from way back:
Diabetes actually got its name in ancient Greek times. The literal translation of the word "diabetes" means "passing through" – a nod to the frequent urination that often accompanies the condition.
While we're skipping back through history, it also bears mentioning that it was in 1889 that two scientists discovered the link between diabetes and the pancreas, when they removed a dog's pancreas as part of an experiment. The dog developed diabetes as a result; the connection was made when the scientists noted flies feeding on the dog's sugar-sweet urine.
Once the causes and effects of diabetes became evident, work began in earnest to uncover a treatment. Until insulin was discovered in 1921, doctors needed to figure out how to best manage their patients presenting with signs of diabetes. They often put their patients on starvation or semi-starvation diets, recommending they eat only foods such as oatmeal. This was because they didn't know how else to maintain low glucose levels, and oatmeal is low in sugar. These doctors were onto something even back then – today, oatmeal is still highly recommended by medical professionals treating people living with diabetes.
Did you know that most people living with diabetes fall into two categories?
You've likely heard about type 1 and type 2 diabetes. Yet there is actually a third type of diabetes: pregnant women can develop gestational diabetes, which is potentially harmful to both the mother and unborn child. As part of prenatal care, doctors will test for gestational diabetes and then carefully monitor any moms-to-be who present with it, to ensure continued health for both mom and baby. Happily, in most cases, gestational diabetes disappears once the baby arrives.
Let's close with just one more lesser-talked-about fact:
Our four-legged best friends are not immune to diabetes. While many of us find overweight dogs and cats cuddly and adorable, these pets have a high likelihood of developing diabetes from all that weight. Strangely, male cats and female dogs are most likely to develop diabetes, and animals develop diabetes for the same reasons that humans do.
Without question, whether you're on four legs or two, a good diet and getting active can lead to a healthier lifestyle, make you feel better, and lower your risk of other diseases. If you're of the human species, consulting a healthcare professional is the best way to know how to decrease your risk of developing diabetes.
We've come a long way since that first recorded mention of diabetes way back then. Today, through medical advances combined with lifestyle changes, people who are living with diabetes are enjoying active, full lives.
As well, living with diabetes doesn't mean you will be turned away when applying for life insurance. You can apply for coverage regardless of pre-existing health conditions such as diabetes, with Canada Protection Plan. To find out what life insurance plan is best suited for you, please contact your advisor or call 1-877-851-9090.
---
For full details and resource on diabetes, visit https://www.diabetes.ca/
The information contained is as of date of publication, and may be subject to change. These articles are intended as general information only, a licensed advisor should be consulted regarding your specific situation.