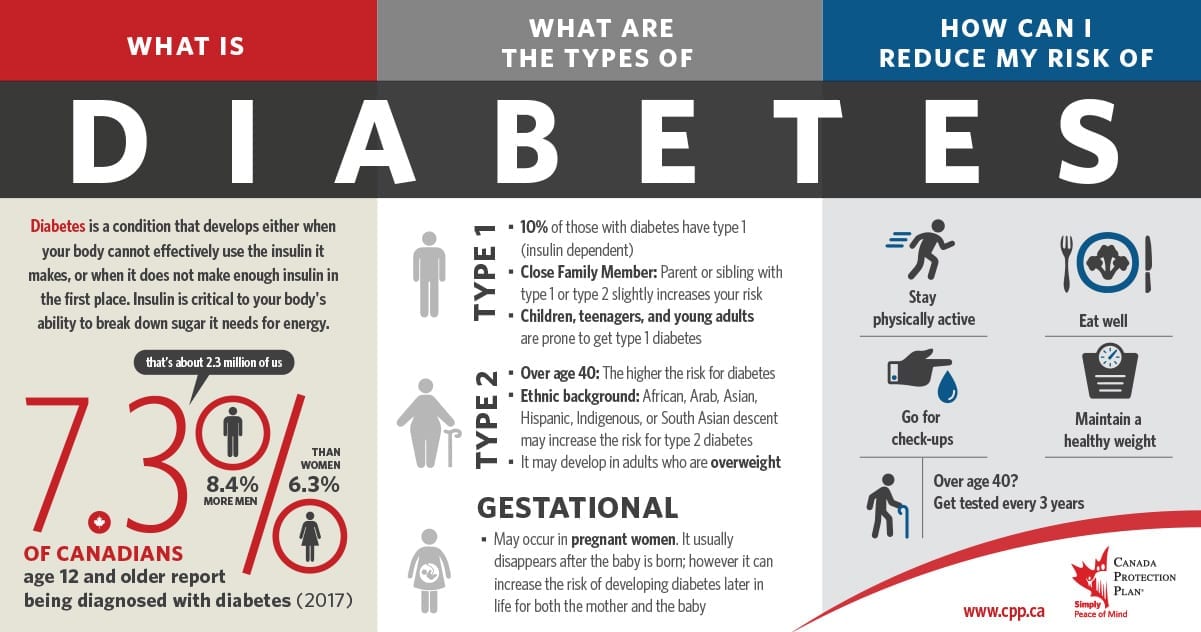 This cover has been designed using resources from Freepik.com
What is diabetes?
Diabetes is a condition that develops either when your body cannot effectively use the insulin it makes, or when it does not make enough insulin in the first place. Insulin is critical to your body's ability to break down sugar it needs for energy.
7.3% of Canadians (that's about 2.3 million of us) age 12 and older report being diagnosed with diabetes (2017)
More men (8.4%) than women (6.3%) have diabetes1
What are the types of diabetes?
Type 1 diabetes
10% of those with diabetes have type 1 (insulin dependent)
Close Family Member: Parent or sibling with type 1 or type 2 slightly increases your risk
Who is prone to get Type 1 Diabetes? Children, teenagers, and young adults
Type 2 diabetes
Over age 40: The higher the risk for diabetes
Your ethnic background: African, Arab, Asian, Hispanic, Indigenous, or South Asian descent may increase the risk for type 2 diabetes
It may develop in adults who are overweight
Type 2 may be treated with medication, lifestyle changes, or both
Gestational diabetes
May occur in pregnant women. It usually disappears after the baby is born; however it can increase the risk of developing diabetes later in life for both the mother and the baby
How can I reduce my risk for diabetes?
Stay physically active, eat well, maintain a healthy weight and go for check-ups. Over age 40? Get tested every 3 years
Who is at risk for diabetes?
Being in a high-risk ethnic group
prediabetes
a history of gestational diabetes
vascular disease
high blood pressure
high blood cholesterol
overweight and/or abdominal obesity
giving birth to a baby larger than 4 kg or 9 lb.
schizophrenia
acanthosis nigricans (skin folds or darkened patches of skin in places such as the arm pit)
Speak with your advisor or contact Canada Protection Plan and get a no obligation quote for life insurance regardless of health conditions such as diabetes.