A QUICK and EASY Application and Tracking process
If your client is a resident of another country, they are required to complete a declaration of Tax Residence
for Individuals RC520
or
for Entities RC521
and submit it with their (10/16) application. Not required on e-Applications or with (10/17) versions.
ELECTRONIC APPLICATION
We offer an electronic application option which allows you to complete an application when you are not in the same location as your client. View our
"how to" e-app video tutorial
,
try out our demo
. For more information or to use this application, go to the following link:
eAccess.ca
INSIDE SALES REPRESENTATIVES
Our Inside Sales Representatives are experts in Canada Protection Plan products. They provide you with ongoing support and assurance so that your clients get the right plan as quickly as possible. Our sales team assists in quotations, contracting and in-depth walkthroughs of our Simplified Issue & No Medical life insurance products. For further details, please
contact us
or call
1-877-796-9090
APPLICATION STATUS
The status of applications submitted to Canada Protection Plan is normally available within 24 hours of receipt on the
WealthServ
system. If you have additional questions after checking WealthServ, please contact your MGA, or contact our New Business department at 1-877-447-6060 extension 362.
If at the time of issue, two or more applications are submitted at the same time (on the same life, or on two family members who are paying from the same account), and the policies are on the Pre-Authorized Cheque (PAC) Plan, the client(s) can qualify for a
$40.00
Multi Policy fee. This fee is subject to the following requirements:
PAC banking details must be the same for all policies, and
The PAC draw date must be the same for all policies.
The fee is always applied to one policy only. This fee does not apply to policies already in-force.

NEW BUSINESS APPLICATION PROCESS
The Canada Protection Plan application process is relatively simple: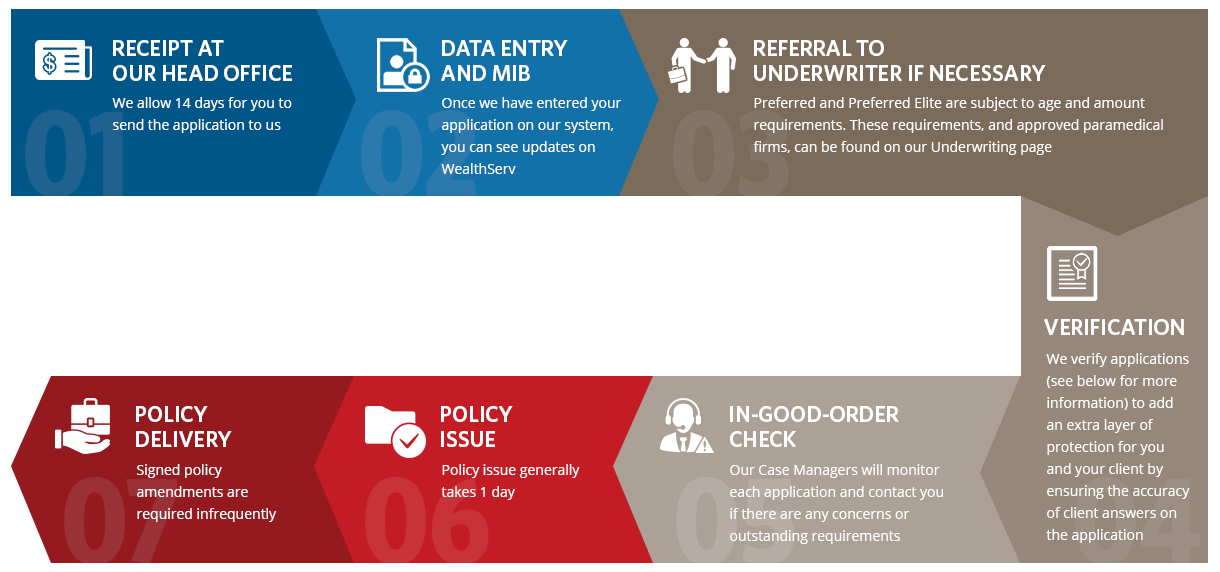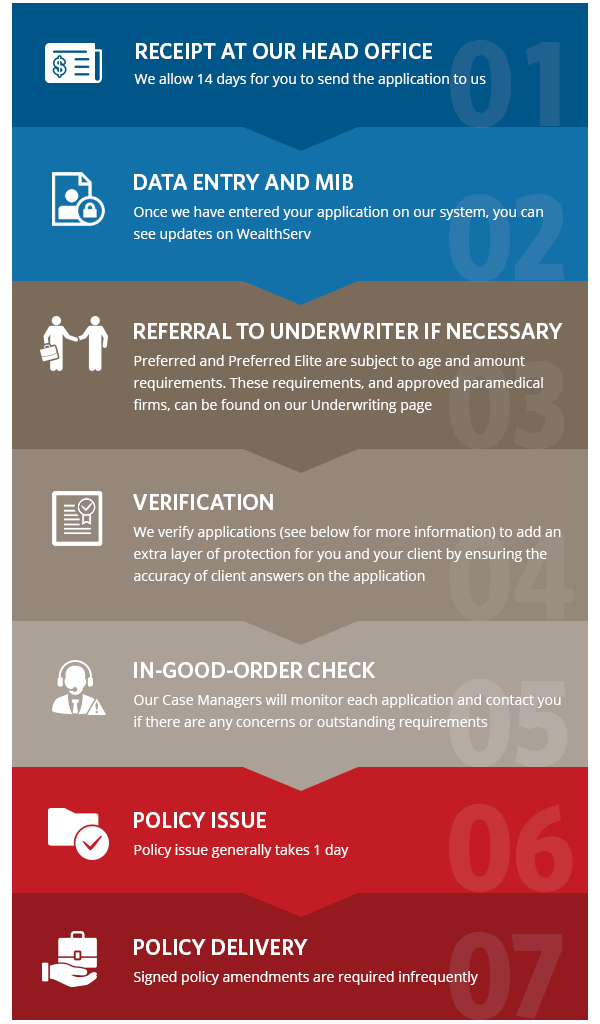 New Business Verification Process

Verification of information is an important part of the policy approval process. During verification, the Proposed Life Insured will be contacted by phone to verify the answers on the application. We have found that asking the questions a second time brings greater clarity to the answers. Concerns are identified and addressed. This, in turn, minimizes misunderstandings and/or misstatements and helps to ensure a smoother process if / when a policy claim is submitted.

The verification is typically completed within days of the receipt of the application by Canada Protection Plan.

To facilitate the verification process, please advise the Proposed Life Insured that a third party verifier may be contacting them.


New Business Premium Rules
Two premium modes are available – annual and monthly.
Annual premiums can be paid by credit card or cheque.
All cheques should be payable to Foresters Life Insurance Company.
Credit cards accepted are either VISA or MasterCard.
The first premium for an annual premium policy can be paid by cheque with the application, or by credit card.
Monthly premiums can only be paid by pre-authorized debits from the payor's bank account.
Bank account must be chequing account or savings account with chequing privileges.
The monthly PAC date can be any date between the 1st and the 28th.
For all PAC policies, a payment must be applied for each calendar month that the policy is in force. So, for example, if a policy is issued on January 25th, then the first PAC payment will be applied for January, the second PAC payment will be applied for February, and so on.
For PAC policies, payments start in the second month – applicable on monthly payment plans only.
All monthly premiums would be required at the time of issue on a backdated policy.
We DO NOT Accept Money Orders for initial premium payments.