Canada Protection Plan recognizes that you need the tools to promote solutions and provide product information. They are available here in one convenient location for your use.
CALL US!
Advisor Support Call
1-877-796-9090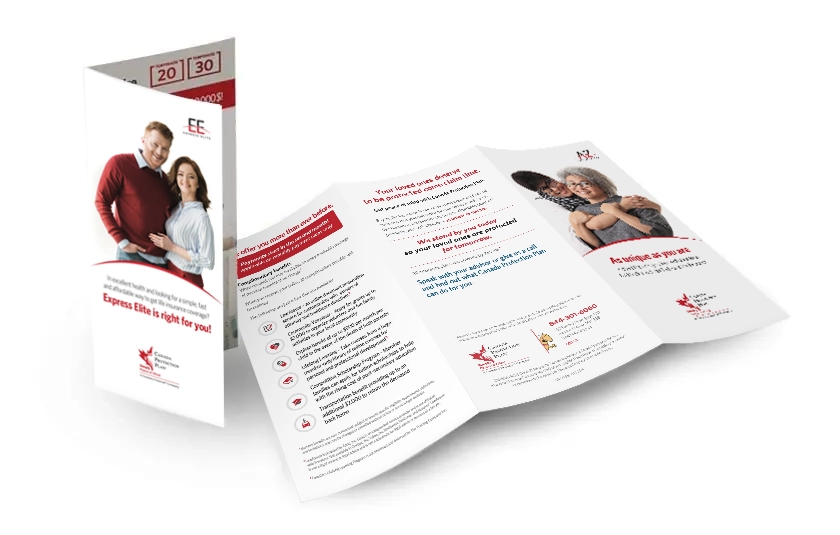 Marketing Tools
Consumer Brochure
This consumer brochure is ideal as it provides additional support with an overview of the choices available for the advisors clients. Advisors can download this PDF and simply add in personal contact info on the back as it is print ready. Use it as a mailer to prospective clients or to cross-sell existing clients.
Raise your profile and reach more customers with one of these professionally designed ad mats/flyers, postcards, posters, mailers and letters.
Each of these can be customized with your contact information. It's easy to personalize, just download and save the files you'd like to use, add in your contact details where indicated, save and it is ready to go!
A selection of our most popular collateral items are
available in additional languages
.
Please contact us at
sales@cpp.ca
or
1-877-796-9090
to find out more!
For Addressed or Lettermail – blank side provides space for address label and stamp or meter.
A handy and concise information sheet
Personalize and include with your letter on the merits of an insurance policy for covering a mortgage.
LawAssure
This online document preparation service helps create customizable wills, powers of attorney and healthcare directives. Not available in Quebec, the Territories and Nunavut.
Letter and Email Templates
Prospective clients No Med
There is a simple and straightforward solution to obtain "No Medical" life insurance with up to $750,000 in coverage.
For your clients who are not eligible for other plans of life insurance
This template offers an easy way for you to initiate a conversation about Guaranteed Acceptance Plan.
Purchasing a term life insurance plan vs. mortgage insurance
Show your prospective clients how they could benefit from purchasing individual coverage in this convenient letter template.
Canada Post offers a service called Precision Targeter.
Precision Targeter is a free online tool that helps you reach potential customers cost effectively. It can store your campaigns and it can suggest Canada Post routes that are a close match to your target audience criteria, which may reveal an untapped source of new business.