Life Insurance

Calculator
Just follow these three easy steps to estimate how much life insurance you may need.
To estimate how much life insurance, you need to protect your family in the event of your passing, simply enter the required information in three easy steps:
The amount of funds required by your loved ones to help cover any final expenses or outstanding debts
The funds needed to help maintain their standard of living
Your amount of current savings, assets, and any existing insurance coverage
Enter the approximate amounts in the fields, and receive the estimate of how much life insurance you may need in as little as a few minutes!
keyboard_arrow_leftPrevious
Nextkeyboard_arrow_right
Life insurance can be the difference between peace of mind for your loved ones and financial difficulties in the event of your death. The amount of life insurance that you may need is going to depend on a variety of factors such as:
Your mortgage – If you are making payments on your home mortgage, you may need a life insurance policy with a benefit that can potentially pay off the balance on your mortgage. It is also common to choose a term life insurance length that matches the length of your remaining mortgage.
Your children – If you have young children, extra costs such as childcare may be incurred with your passing. Parents with young children need to ensure their insurance is adequate to help handle the expenses of raising children to adulthood.
Other dependents – If you have anyone else that depends on you financially, such as an elderly parent or a sibling, then you need enough life insurance that they will be provided for.
Education needs – Providing for educational costs is often a motivator for life insurance.
If you have an existing life insurance policy through your workplace or a substantial savings account, you will probably not need as much life insurance and, instead, may need a little bit as a buffer.
Our life insurance calculator can help you determine these amounts and use them to estimate the amount of life insurance you need. Once you have an estimate of how much life insurance you need, simply answer a few questions about your age and lifestyle, and get a quick quote.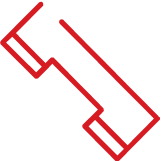 Send us an email or call us for a no obligation quote toll-free at 1-877-851-9090
CALL NOW