Life Insurance
Quick Quote
With answers to a few simple questions, you'll see how affordable the rates of our most popular life insurance plans can be.
Ages 18-80 years can apply [1]
Thank you! Below are your results
You can start over at any time by clicking the Go Back button
Critical Illness Insurance
The minimum premium amounts accepted are $15 a month or $150 a year. The minimum coverage is $25,000 on Quick Quote. If you require coverage below this amount, please contact us and a quote will be provided.

If the coverage amount exceeds the maximum coverage allowed, Quick Quote will show the premium at the maximum coverage amount.

Quotes are for our most competitive plan. Your actual premium will be based on the plan selected for which you qualify.
Your Personalized Quote Form
Please fill out the form below to receive your personalized quote
keyboard_arrow_leftPrevious
Nextkeyboard_arrow_right
There are several reasons why many choose to purchase life insurance:
Protect you family and loved ones from financial hardship
Ensure that your mortgage, debts, and living expenses are paid-off in the event of your death
Leave a legacy for your loved ones, or to a charitable cause
Cover funeral costs
Life insurance policies are important because they give you control over your financial assets, and options for debt repayment and income replacement in the event of your death. Without these plans in place, your family may be exposed to financial hardship upon your passing, having to deal with a myriad of expenses in the midst of the grieving process.
Your total amount of recommended life insurance is based upon three main factors: total cash needs, income replacement, and assets and insurance. Our Insurance Calculator makes it quick and easy to estimate how much life insurance you may need, to ensure that in the event of your untimely death, your family is able to cover your expenses, as well as maintain their standard of living.
Once you have an idea of your total insurance needs, this Quick Quote form can help to identify and compare the insurance plans available to you and best rates based on age and smoking status.
For a more accurate quote tailored to your unique health and needs, you can easily contact us and request a no-obligation personalized quote.
Canada Protection Plan makes it as easy and affordable as possible to ensure that your family's financial well-being is secured, well into the future. With a broad range of No Medical Life and Critical Illness plans, our goal is to make insurance accessible to all, whether you're healthy or have an existing health issue or condition.
Our Insurance Quick Quote will help identify the insurance plans available to you based on a few basic questions. When compared with similar plans and benefits, you'll discover how low our rates can be.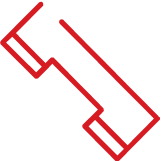 Send us an email or call us for a no obligation quote toll-free at 1-877-851-9090
CALL NOW