There's a reliable and affordable life insurance plan that may be right for you!
REQUEST A QUOTE
Looking for life insurance in New Brunswick?
Let us help you find your best fit!
Canada Protection Plan is a leading name in No Medical & Simplified Issue Life Insurance, providing you with reliable and compassionate service, as well as affordable life insurance plans. Depending on your health and stage of life there are a variety of plans to choose from. Secure the financial future of your loved ones today and experience the peace of mind shared by so many of the families we serve across New Brunswick!
Get a no-obligation quote from one of our licensed life insurance advisors and get insured in just a few days!
It's simple and straightforward to get the right life insurance plan. We're proud to offer a vast range of products to support the life insurance needs of clients of every age and state of health. Our New Brunswick life insurance advisors are here to walk you though your options, including some of our other products such as health and dental insurance, critical illness insurance, and travel insurance. Whatever your circumstances, we'll help you find coverage that feels just right.
No Medical plans up to $750,000. This means no medical exams or needles, and being able to get protected quickly.
Coverage up to $1 million on all other plans.
Payments start in the second month, applicable on monthly payment plans.
Get covered regardless of health condition
Permanent and Term Plans available
When you choose to invest in life insurance, you have the option of Term Life Insurance or Permanent Life Insurance; each offers unique benefits depending on the age, life stage, or health of the policyholder.
Term Life Insurance
Term life insurance offers coverage over a set period of time – generally 10, 20, 25, or 30 years – after which you can choose to renew your plan or select a new term length. Term Life Insurance is a great option for those who know how long they want to be covered for, such as while their mortgage payments or debts are their highest, or while their dependents are young.
Permanent Life Insurance
Permanent life insurance, as the name suggests, provides the policyholder with permanent coverage, and a premium that stays the same over the course of a lifetime. Permanent life insurance plans are great for covering permanent needs, such as final expenses. Canada Protection Plan is proud to offer more Permanent Life Insurance options than any insurance provider across New Brunswick.
As a commitment to making it as quick and easy to secure the right coverage, Canada Protection Plan offers a robust range of No Medical & Simplified Issue Life Insurance, designed to protect even the hard-to-insure! No doctors' visits or needles necessary; just coverage you can count on, within a few days. Explore our full scope of life insurance offerings,including our No-Medical Plans.
Canada Protection Plan makes it quick and easy to see how competitive our rates are on our most popular plans: check our online Life insurance Quick Quote tool, or use our Insurance Calculator to instantly reveal the appropriate coverage amount based on your immediate cash needs, income replacement requirements, and existing assets.
From the coast to the forested uplands, from Fredericton to Moncton, this Atlantic province is diverse and dynamic! But wherever you are in New Brunswick, many can agree upon the importance of protecting the wellbeing of your loved ones.
By investing in a reliable life insurance plan, you benefit from the peace of mind of knowing that in the event of your death, your family is protected from assuming your outstanding debts (such as a mortgage, loans, or credit card bills) or having to cover your final expenses. Some find more comfort in the fact of knowing that their insurance coverage provides valuable income replacement, so that the lifestyles of their family members are not adversely impacted by their death. With a strong culture of giving, it's not surprising that many across New Brunswick are choosing to use their life insurance to leave a legacy, helping a charitable cause to reach their goals.
Whatever your reason for choosing to say "yes" to life insurance, Canada Protection Plan will help you find the most affordable option to meet these needs.
* Temporary residents must have a valid work or study permit.
New Brunswick – Situated in the Appalachian Range, the province was founded by the United Empire Loyalists. New Brunswick is the only officially bilingual province, and about one-third of the population lives and works in French.
From coast to coast to coast, whether you live in New Brunswick (NB) or any other province or territory, when compared to similar plans and benefits, our rates are among the lowest in Canada.
Source: Government of Canada. Discover Canada – Canada's Regions
Why wait any longer? For a no-obligation and confidential quote, submit this form. Get peace of mind today with Canada Protection Plan.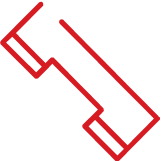 Send us an email or call us for a no obligation quote toll-free at 1-877-851-9090
CALL NOW