Living in Newfoundland & Labrador?
There's a reliable and affordable life insurance plan that may be right for you!
REQUEST A QUOTE
Looking for life insurance in Newfoundland & Labrador?
Let Canada Protection Plan help you find your best fit!
Canada Protection Plan is a leading name in No Medical & Simplified Issue Life Insurance providing you with reliable and compassionate service, as well as affordable life insurance plans in Newfoundland & Labrador, and nationwide. Depending on your health and stage of life there are a variety of plans to choose from.
Get a no-obligation quote from one of our licensed life insurance advisors, or get a Quick Quote online, and find out which plan can be the right fit for your needs.
It's simple and straightforward to get the right life insurance plan.
No Medical plans up to $750,000. This means no medical exams or needles, and being able to get protected quickly.
Coverage up to $1 million on all other plans.
Payments start in the second month, applicable on monthly payment plans.
Get covered regardless of health condition
Permanent and Term Plans available
Everyone has their own reason for deciding to invest in a life insurance plan; whether you're looking to replace your income, cover outstanding debts, pay for final expenses, or leave a gift for a special cause, life insurance safeguards your loved ones from financial hardship.
With so many options available, it can be hard to know what life insurance plan is the best fit for your needs. Here is what you need to know to make your decision a little easier:
All life insurance plans fall under one of two categories: Term and Permanent Life Insurance Plans. Each offers different benefits depending on your life stage, health condition, and your financial goals.

Term insurance offers coverage over a defined period – typically 10, 20, or 30 years – and is a great option if your coverage needs are temporary, such as coverage over the term of your mortgage.
Permanent life insurance offers lifetime coverage, with a fixed premium. Canada Protection Plan is proud to offer more Permanent Life Insurance options than any other Life Insurance Company in Newfoundland & Labrador. Explore our term & permanent life insurance plan options to see what type of coverage aligns with your personal and financial circumstances.

Using our Life Insurance Calculator, you can quickly see how much life insurance coverage is necessary to protect your family. Our Quick Quotetool will match your life insurance needs with the rates of our plans. Find your best fit.
Applying for life insurance has never been quicker or easier thanks to our No Medical & Simplified Issue Life Insurance Plans, which allow you to get comprehensive coverage without needles, doctors reports or medical exams!
From the colourful streets of St. Johns, to the historic town of Bonavista, and along the winding paths of the East Coast Trail, Newfoundland & Labrador is a dynamic and growing province. Canada Protection Plan is proud to support families across this region with affordable, reliable, and accessible life insurance plans designed with you in mind.
* Temporary residents must have a valid work or study permit.
Newfoundland and Labrador is the most easterly point in North America and has its own time zone. The province has long been known for its fisheries, coastal fishing villages and distinct culture.
From coast to coast to coast, whether you live in Newfoundland & Labrador (NL) or any other province or territory, when compared to similar plans and benefits, our rates are among the lowest in Canada.
Source: Government of Canada. Discover Canada – Canada's Regions
Why wait any longer? For a no-obligation and confidential quote, submit this form. Get peace of mind today with Canada Protection Plan.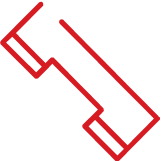 Send us an email or call us for a no obligation quote toll-free at 1-877-851-9090
CALL NOW