Cover final and other expenses that need to be looked after with a life insurance plan. The benefit paid out is tax-free.
No Medical life insurance coverage from $5,000 up to $750,000 and up to $1 million on all our other plans.
Whether you're 18 or 80 you can apply, including temporary residents with a valid work or study permit.
Get a free no-obligation quote
We may not want to think about it, however planning ahead and purchasing a life insurance policy to cover funeral expenses is one of the most thoughtful and generous gifts that you can provide.
Protect your loved ones from the financial burden of:
Funeral costs
Any debts or mortgages that will need to be paid off
Any taxes you might owe
As a leading provider of No Medical and Simplified Issue Life Insurance, Canada Protection Plan allows you the freedom and flexibility to secure a reliable life insurance plan that covers your final expenses, without the need for a medical exam or needles. Even if you have health issues you can apply for convenient, reliable, and affordable No Medical life insurance plans.  Your premiums are fixed for the duration of your policy and term plans can be  renewable upon term completion.
With a comprehensive life insurance plan, you have peace of mind that your loved ones will not be saddled with the burden of covering funeral costs, and are also protected from paying other outstanding payments such as legal fees, estate taxes, and other costly debts during an already difficult time.
Final Expense and Funeral Cost
When it comes to covering your final expenses, are your wondering whether life insurance will cover your funeral costs?
Your life insurance policy can be used to cover funeral costs as well as any outstanding expenses. In Canada, the cost of a funeral can range from a modest $5,000 to well over $15,000 and this expense would have to be paid by your family if you haven't planned in advance for this cost.
A life insurance policy is designed to help your family cover the cost of funeral expenses and other costs such as, capital gains, legal fees, and estate taxes as well as even small cash gifts for beneficiaries upon your death. It is usually a low-cost option that can provide peace of mind for you and your loved ones.
To help to determine the right amount of coverage you may need based on funeral costs and any outstanding expenses,  you can use this calculator. The application process is simple and straightforward and, you can be covered quickly.
A licensed advisor can help with how much coverage you require to ensure that your loved ones are safeguarded from carrying the burden of your final expenses in the event of your passing. We will also explain your insurance options. Depending on your age, health, and the amount of life insurance you need, we have many life insurance options that will give you peace of mind knowing your final expenses can be covered.
Apply now for a no-obligation quote and protect your loved one's financial future today.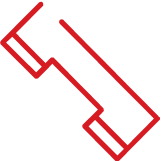 Send us an email or call us for a no obligation quote toll-free at 1-877-851-9090
CALL NOW