Providing the most affordable, reliable insurance coverage within la belle province!
REQUEST A QUOTE
Looking for life insurance in Québec?
You do have a choice!
Canada Protection Plan is a trusted name in No Medical Simplified Issue Life Insurance in Quebec, providing you with reliable and compassionate service, as well as affordable life insurance plans. Depending on your health and stage of life there are a variety of plans to choose from.
Get a no-obligation quote from one of our licensed life insurance advisors and find out which plan can be the best fit for your needs.
It's simple and straightforward to get the right life insurance plan. Talk to a Canada Protection Plan advisor to help determine the right kind of plan for you, and to learn more about our other products, including simplified issue life insurance, critical illness insurance, health and dental insurance, and travel insurance.
No Medical plans up to $750,000. This means no medical exams or needles, and being able to get protected quickly.
Coverage up to $1 million on all other plans.
Payments start in the second month, applicable on monthly payment plans.
Get covered regardless of health condition
Permanent and Term Plans available
As one of the most important investments you'll make over your lifetime, life insurance is an important way to ensure that your family is provided for in the event of your passing. Your plan can help cover costly expenses such as mortgage payments, debts, and final expenses, or can help you leave a gift to a cause that is close to your heart.
The great news is that when it comes to this important investment, you have a number of options to choose from. Life insurance plans come in a variety of shapes and sizes, allowing you to find a best-fit policy that aligns with your coverage needs and future goals. Below, we share the two main categories of life insurance coverage: whole (permanent), and term life insurance.
Permanent Life Insurance in Quebec
Permanent insurance provides you with comprehensive coverage over the course of your life, with a fixed premium. These plans are a great option if you're looking for life insurance solutions to help with covering final expense, succession planning, or estate payments. Permanent life insurance plans can also offer investment opportunities over the long term.
Term Life Insurance in Quebec
Term Life Insurance offers coverage over a set period of time, or a term length. This can range from 10 to 30 years, and your premium remains fixed over the course of this term. If you have a life partner, buying your first home, or starting your family, these are ideal times to look into term life insurance.
A great place to start is to determine how much life insurance coverage you need. Use our Insurance Calculator to determine how much coverage will ensure that your loved ones would need to be provided for.
Based on this coverage amount, our quick life insurance quote tool will help identify which plans best fit with your coverage needs, age, and state of health. To learn more about each plan and how they can protect the financial wellbeing of your family, explore our life insurance productshere.
With a wide range of no-medical insurance plans available, you don't have to worry about medical exams or needles; Canada Protection Plan can secure your life insurance plan in a matter of days. Our goal is to make it as easy as possible for everyone in Quebec, and Canada-wide, to secure reliable life insurance coverage at an affordable price, in the least time possible.
As a leading no medical life insurance company, Canada Protection Plan is proud to offer a number of benefits that help define our life insurance plans as the affordable, convenient, and reliable choice for lifetime coverage.
* Temporary residents must have a valid work or study permit.
In Quebec, more than three-quarters speak French as their first language. The resources of the Canadian Shield have helped Quebec to develop important industries, including forestry, energy and mining. Quebec is Canada's main producer of pulp and paper. The province's huge supply of fresh water has made it Canada's largest producer of hydro-electricity. Montreal, Canada's second largest city and the second largest mainly French-speaking city in the world after Paris, is famous for its cultural diversity.
From coast to coast to coast, whether you live in Québec (QC) or any other province or territory, when compared to similar plans and benefits, our life insurance rates are among the lowest in Canada.
Source: Government of Canada. Discover Canada – Canada's Regions
Why wait any longer? For a no-obligation and confidential quote, submit this form. Get peace of mind today with Canada Protection Plan.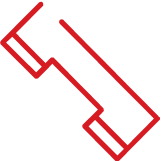 Send us an email or call us for a no obligation quote toll-free at 1-877-851-9090
CALL NOW