Are you a new homeowner? Congratulations!
Protect your largest investment with Mortgage life insurance
REQUEST A QUOTE
As a trusted leader in the No Medical and Simplified Issue Life Insurance industry, our goal is to offer you compassionate service and affordable life insurance solutions.
From mortgage payments to covering ongoing expenses, life insurance provides you with the knowledge and peace of mind that these costs can be covered.
Get up to $750,000 in coverage for No Medical and up to $1 million on all other plans.
Whether you're 18 or 80 you can apply, including temporary residents with a valid work or study permit
Get a free no-obligation quote
Mortgage Insurance – Canada Protection Plan Can Help
Are you buying a new home? Congratulations! If you are like most Canadians, you are probably getting a mortgage at a bank. And they are probably showing you how easy it is to get mortgage life insurance. So you sign up, and everything is good. Or is it?
There is no question that the easiest way to buy insurance to pay off the mortgage in case you die is to get mortgage insurance protection at the bank.
BUT,  DID YOU KNOW:
Bank mortgage life insurance is a type of No Medical insurance, often with very little support to ensure that the no medical questions are answered correctly. That assessment is only made if and when you die! If you have a medical condition and you answer one of the questions incorrectly, your claim may be denied!
The death payment under a bank mortgage insurance policy is payable to the bank to discharge the mortgage. There is no flexibility to make the payment to your beneficiary and let them decide how to handle the bills
The amount of coverage under the bank plan is equal to the mortgage amount and decreases as your mortgage decreases
If you change your mortgage lender, you will need to re-apply for your insurance coverage and likely pay a higher premium
In spite of what you might think, bank mortgage insurance often costs more than other insurance policies that are designed to meet your specific needs
Additional information on Mortgage Insurance
Simply put, mortgage life insurance is offered by banks to protect the lender in case you die or are unable to continue your mortgage payments. A premium is added to your monthly mortgage payments, and in the event of your death, a lump-sum payout is awarded to pay off the outstanding mortgage loan. Bank-owned mortgage life insurance is not to be confused with Mortgage Default Insurance, which is offered through the CMHC (Canada Mortgage and Housing Corporation) and is mandatory if the down-payment of your home is between 5% and 19.99% of the total home purchase. This is considered a high-ratio mortgage. All other mortgage life insurance products offered by your bank are optional.
Mortgage Life Insurance functions differently from life insurance in that it utilizes a system of declining payouts. Your premium is calculated based upon the size of your mortgage and down payment. The payout (the lump sum paid in the event of your death) is tied to your outstanding mortgage amount. Therefore, as you pay off your mortgage, the payout slowly decreases, but your monthly premium stays the same through the term of your insurance.
A bank mortgage insurance policy works great for the bank – but it doesn't take the place of standard term life insurance. Bank-owed mortgage insurance plans may tout convenience, but they lack flexibility, affordability, and breadth of coverage, potentially exposing you loved ones to financial hardship in the event of your death.
Canada Protection Plan offers an extensive range of convenient, affordable, and reliable life insurance protection options, to help you find the best-fit coverage for you and your family.
Choose between permanent insurance, or term insurance depending on the amount of flexibility that you need.
Unlike bank-owned mortgage insurance, you can be assured that your life insurance coverage will not decrease over time, and you are empowered to make decisions as to who will manage your expenses in the event of your death. You may elect for your life insurance to cover your remaining mortgage, as well as other debts and life expenses, pay for your children's education, or to leave a gift to a favourite cause.
Life insurance coverage can safeguard the financial well-being of your loved ones, well into the future.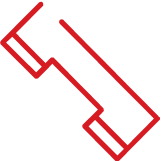 Send us an email or call us for a no obligation quote toll-free at 1-877-851-9090
CALL NOW