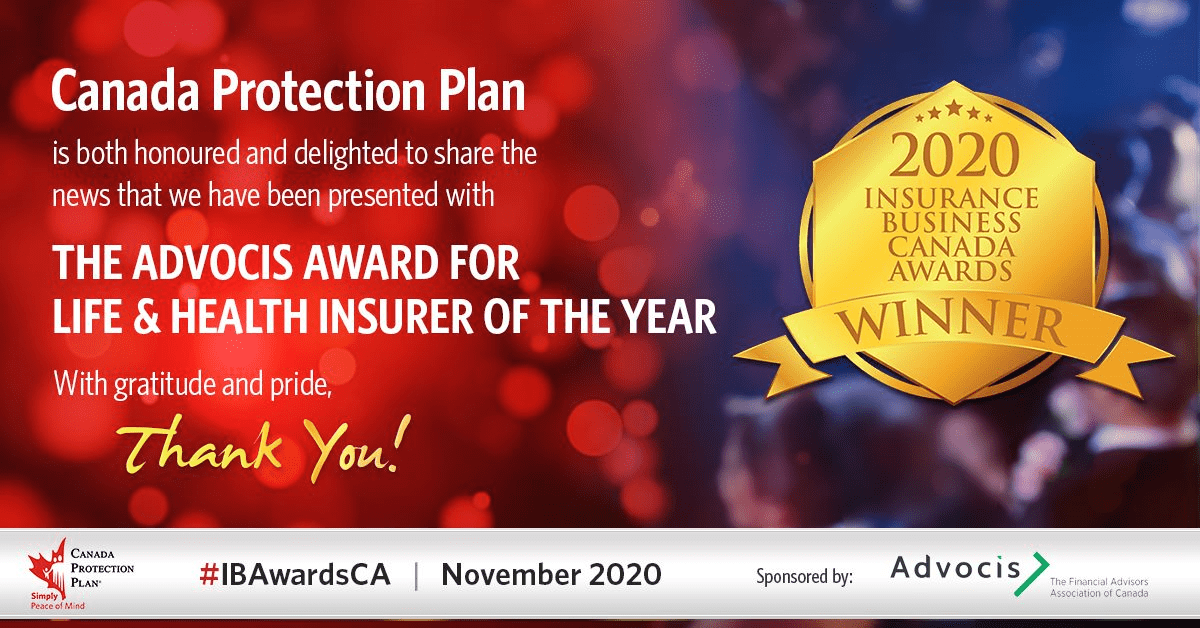 This year has been replete with challenge and change for Canada Protection Plan: from shifting on a dime to making sure our advisors could continue to help Canadians get the life insurance they need via contactless processes during COVID-19 to merging with our long-time partner Foresters Financial™. These changes in our business reflect the changes in the lives of our consumers and advisors, and Canada Protection Plan's ongoing commitment to provide both with an exemplary level of client service.
As we approach the end of 2020, Canada Protection Plan is pleased to announce that we have been named Insurance Business Magazine's Life and Health Insurer of the Year. The award is presented to the outstanding life and health insurance company in Canada providing top-tier life and health insurance products to consumers and businesses. Canada Protection Plan was nominated as part of Insurance Business Magazine's 5th annual Insurance Business Canada Awards through an open call for nominations to Insurance Business' nationwide readership of more than 37,000 insurance professionals.
Canada Protection Plan is grateful to Insurance Business Canada for the awards program and to those who took the time to nominate us. Most importantly, though, we are thankful to our customers. Without your ongoing business and support, this award would not have been possible.
About Canada Protection Plan
Canada Protection Plan, one of Canada's leading providers of No Medical and Simplified Issue life insurance, is the sales and marketing organization of Foresters Financial in Canada, dedicated to serving people across the country with easy-to-purchase life and critical illness insurance and related products. Coverage is quick and affordable, and many plans require no medical examinations. Canada Protection Plan products can be purchased through over 25,000 independent insurance advisors across Canada or through Licensed Insurance Advisors at cpp.ca.