Canada Protection Plan's Hospital Cash Benefit provides you with money if you are hospitalized. You can select the daily payment amount of $25, $50, or $100. This No Medical benefit is easy to get – just answer a few simple 'yes' or 'no' health questions.
Who should consider the
Hospital Cash Benefit?
Unforeseen accidents or illnesses can strike at any time, and the associated expenses can add up quickly! Costs due to hospitalization, the recovery process, or lost earnings, can put your family in a tight financial position if you haven't adequately prepared for such an expense.

You should consider the Hospital Cash Benefit if you'll need money to help pay for some of the unexpected expenses that add up if you are hospitalized. You decide how to best spend the hospital cash benefit. It could be for expenses to pay for a semi-private hospital bed, parking or transportations costs, or to take care of children or pets while you are hospitalized. Knowing that you have access to a Hospital Cash Benefit, affords you the freedom to make your hospital stay as comfortable as possible, with the peace of mind that the additional expenses that you've incurred are being covered.

The Hospital Cash Benefit pays the daily benefit amount if you get sick or suffer an injury that requires you to be confined in a hospital as an inpatient for more than 24 hours. This benefit will only be payable for an injury if the hospitalization occurs within 30 days of the accident that caused the injury. The maximum payment period is 90 days for the same sickness or injury and 180 days for all sicknesses and injuries.
The Hospital Cash Benefit is only available as a rider on Simplified Elite, Preferred and Preferred Elite, and Express Elite policies.
The premium rates for the Hospital Cash Benefit may be adjusted based on the claims experience of all Lives Insured at the end of each calendar year.
Coverage ends on the policy anniversary nearest your 70th birthday, provided your base policy is still in force.
Benefits will not be paid for:
A pre-existing condition during the first year following the effective date of coverage,
Cosmetic surgery or treatment, except when medically necessary and due to accident, sickness or injury.
Exceptions, as described in your policy.
The daily benefit amount can be $25, $50 or $100.
The daily benefit amount automatically doubles if the Insured is confined in a hospital intensive care unit as an inpatient for more than 24 hours.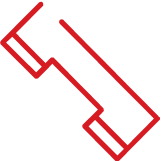 Send us an email or call us for a no obligation quote toll-free at 1-877-851-9090
CALL NOW