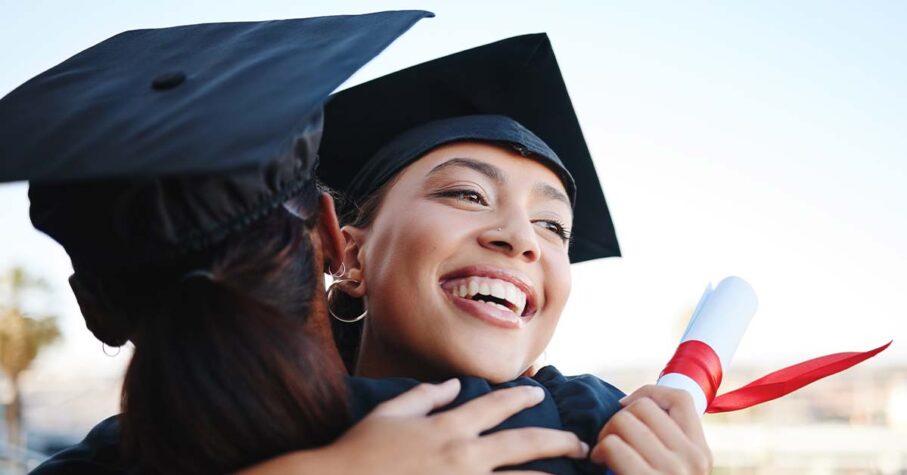 Foresters Financial, a fraternal benefit society committed to supporting its members, offers the Foresters Scholarship Membership Program1, 2 to assist members and their dependent children in pursuing higher education. Through this program, Foresters aims to alleviate the financial burden of post-secondary education by providing scholarships to eligible individuals, fostering academic achievement and personal growth.
The program aims to free individuals from the financial constraints of attending post-secondary education at a community college, university, or trade program. This allows individuals to focus on their personal growth and educational goals without unnecessary financial stress.
Why Choose the Foresters Scholarship Program?
The Foresters Scholarship Program is unique because it encourages student-community engagement, academic excellence, and leadership development. Successful candidates are rewarded based on academic performance and community service.
The scholarship funds are nontaxable and renewable for up to four years. These scholarship funds are intended for tuition fees and do not cover expenses such as books, room and board, and other school-related expenses. Nevertheless, education has become more accessible and attainable for individuals facing financial challenges, opening doors for more opportunities and academic achievements.
Beyond the financial support, being a program recipient has other advantages, including access to educational resources, building connections with fellow scholars and accomplished professionals, and engaging in workshops.
Scholarship Amount
The amount received by the recipients may vary from a few hundred dollars to several thousand dollars, depending on the number of applicants, current subsidies or scholarships received by the recipient, the funds allocated for scholarships, and the strength of the recipient's qualifications. Foresters grants 300 scholarships annually, and recipients may receive up to $2,500 each year and up to $10,000 in local currency over four years.
The funds are only applicable to the first post-secondary diploma or degree of the recipient.
It's worth noting that scholarship amounts and benefits may vary each year and are subject to the availability of funds and the overall qualification of applicants.
Eligibility Criteria
To be eligible for the Foresters Scholarship Program, all applicants must meet at least one of the following criteria:
A Foresters member insured under:

In-force annuity; or
In-force certificate; or
A rider under any certificates listed above; or
In–force Foresters Social Fraternal Membership

A grandchild or dependent child of members, including children under the care of an eligible legal guardian
The spouse of a qualified Foresters member
Additionally, new applicants must meet all of the following requirements:
Be under 24 years of age
A minimum GPA of 3.2 or an 80% average
Completed at least 200 hours of community service within the last 24 months
Enrolling in a minimum 2-year program or full-time undergraduate program recognized in Canada or US
For returning candidates, you must meet the following:
Be enrolled in a full-time program in the current academic year
A minimum GPA of 3.0 on your current transcript
Completed at least 50 hours of community service within the 12 months preceding the application deadline
Who are considered returning candidates?
Previous applicants who applied for the scholarship but were denied
Those who Foresters Financial previously awarded the scholarship
Current scholarship recipients
Depending on the scholarship program, applicants may need to be Canadian citizens or permanent residents to be eligible. Citizenship or residency requirements are often outlined in the scholarship guidelines.
There are also scholarships for specific programs or fields of study, such as healthcare, STEM, or other targeted areas. Eligibility requirements may depend on the scholarship's focus. Take note that students are only awarded once per academic year.
Application Process
To apply for the Foresters Scholarship Program, create an account with MyForesters.com, go to the Scholarship section and click Apply Now. You will be redirected to the ISTS Scholarship Portal to continue your application. You will use this account to submit supporting documents and track the status of your application. You must ensure that all requirements are submitted before the deadline.
Due to the high number of applicants received each year, the competition can be intense. Meeting or exceeding the requirements of the scholarship does not guarantee that you will be chosen as a scholarship recipient. For your reference, applicants are ranked according to the following components:
Grades – 35%
Community Service, Essay, and Recommendation Letter – 65%
Complete the Application Process in 5 Steps
You will be notified about the scholarship award if you are chosen as a recipient. Please adhere to any instructions provided regarding the acceptance of the scholarship and any additional requirements. It is also your responsibility to notify ISTS of your chosen school or institution to ensure that the check for the scholarship is issued to the right institution.
The Foresters Scholarship Member Benefits Program aims to alleviate the financial burdens of pursuing post-secondary education for deserving candidates facing financial struggles. Remember to check the eligibility requirements outlined in the program guidelines.
Take advantage of this incredible opportunity and visit Foresters Financial to stay updated on the Foresters Scholarship Member Benefits Program.
Apply today and unlock a world of possibilities!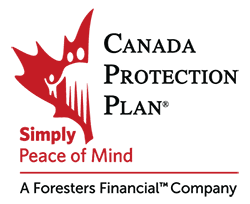 Canada Protection Plan is one of Canada's leading providers of No Medical and Simplified Issue Life Insurance.
Our mission is to provide reliable protection and compassionate service from coast to coast with easy-to-purchase life insurance, critical illness insurance and related products. Our expanding product choices will help you get the coverage and peace of mind you need for a better financial future. Canada Protection Plan products are available through over 25,000 independent insurance advisors across Canada.
FOOTNOTES:
This program is administered by International Scholarship and Tuition Services, Inc. Eligible members, their spouse, dependent children, and grandchildren may apply subject to the eligibility criteria. Please visit https://www.foresters.com/en-ca/member-benefits/scholarship-new-applicants for further details.
Description of member benefits that you may receive assumes you are a Foresters member. Foresters Financial member benefits are non-contractual, subject to benefit specific eligibility requirements, definitions and limitations and may be changed or cancelled without notice or are no longer available.