Cover the cost of your Final Expenses with Final Expense Insurance
When it comes to covering your final expenses, are your wondering whether life insurance will cover your funeral costs? Canada Protection Plan can offer the services of Licensed Insurance Advisors who can help you to figure out your final expense insurance needs.
Protect your loved ones from the financial burden of:  
Burial or cremation costs
Any debts or mortgages that will need to be paid off
Any taxes you might owe
DID YOU KNOW:
In Canada, the cost of a funeral can range from a modest $5000, to over $15,000. While costs vary considerably across provinces and are also dependent on a long list of details (such as burial versus cremation), this final expense is always a pricey one. Thankfully, we can help make this considerable cost easier on our loved ones by investing in a life insurance plan that covers the cost of final expenses, including a funeral.
A licensed advisor can help you add up how much coverage you require to ensure that your loved ones are safeguarded from carrying the burden of your final expenses in the event of your passing. We will also explain your insurance options. Depending on your age, health, and the amount of life insurance you need, we have many life insurance options that will give you peace of mind knowing your final expenses will be covered.
As a leading provider of No Medical and Simplified Issue Life Insurance, Canada Protection Plan allows you the freedom and flexibility to secure a reliable life insurance plan that covers your final expenses, without the need for a medical exam or needles. A convenient, affordable option to have you covered within days. Rest assured that your premiums are fixed for the duration of your policy, and if a Term plan, many are renewable upon term completion.
With a comprehensive life insurance plan, you have peace of mind that your loved ones will not be saddled with the burden of covering your funeral costs, and are also protected from paying other outstanding payments such as legal fees, estate taxes, and other costly debts. The benefit paid out is tax free.
Don't leave your family with unexpected expenses when you die. Life insurance can be the last gift you will give.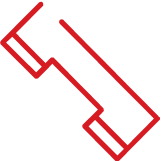 Send us an email or call us for a no obligation quote toll-free at 1-877-851-9090
CALL NOW