See how we can help you with your Health & Dental insurance needs.
Medical bills can add up, from prescription drugs, dental checkups, physiotherapy, eyeglasses and so forth. If you/your family aren't covered by a group health and dental insurance, you need a dental plan and health insurance. Canada Protection Plan offers both, and also offers Hospital Cash Benefit insurance.
Hospital Cash Benefit provides you with money if you are hospitalized and could be used for expenses to pay for a semi-private hospital bed or to take care of children or pets while you are hospitalized.
Why choose
Canada Protection Plan

for

Health & Dental Insurance

options:
A variety of plans ensures we have the right plan for you
Competitive rates
Easy to buy. You have the choice of phoning our call centre or buying direct on the internet
Our insurance plans include many valuable benefits including:  Prescription drugs, Dental services, Vision care, Hospital benefits, Registered Massage Therapy, Hearing aids, Ambulance services, Home care and nursing, and Custom made orthotics
Canada Protection Plan

offers

two different Health & Dental Insurance plans:
Hospital Cash Benefit
This No Medical plan gives you tax-free payments if you are hospitalized for more than 24 hours.
Health and Dental Insurance
Protect yourself from medical expenses not covered by provincial health insurance. We have many choices to cover prescription drugs, dental care and so much more.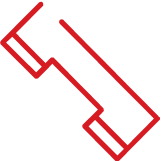 Send us an email or call us for a no obligation quote toll-free at 1-877-851-9090
CALL NOW