Critical illness is something you think happens to other people. But it can happen to you, and the better prepared you are for it, the better off you and your family will be. While you're healthy, you should consider how your life and finances will be affected if you can't work for an extended period. 
Critical illness insurance provides you with the financial support you need when you're seriously ill and have to forgo your income for a while. This article will discuss your financial needs if you get critically ill and how critical illness insurance can help. 
Critical Illness Options with Canada Protection Plan
Canada Protection Plan offers several Critical Illness Insurance plans for the most common serious illnesses.  
Cardiac Protect


It covers you when you've had a heart attack or stroke or if you have aortic surgery, coronary artery bypass surgery, heart valve replacement or heart valve repair. 

 
Cancer Protect


It covers you if you get cancer, aplastic anemia, or a benign brain tumour. 

 
Cardiac AND Cancer Protect


Covers the illnesses in Cardiac Protect CI

and

Cancer Protect CI. If you make a claim on either group of illnesses, the rest of the plan stays in effect at a reduced premium. 

 
Cardiac OR Cancer Protect


Covers

either

the cardiac illnesses covered by the Cardiac Protect plan or the cancers covered by the Cancer Protect plan. 

You can also get a renewable version of this plan. 

 
All of the plans offered by Canada Protection Plan are No-Medical, meaning that you don't need to have a medical exam, give fluid samples, or answer extensive questionnaires to qualify for coverage. You can even get insured if you already had a critical illness.  
Want to chat more about your Critical Illness Insurance needs? Call one of our licensed brokers today to review your coverage and what you might need to fill the holes in your safety net.  
In addition to Critical Illness Insurance, we also offer Life Insurance, both term and permanent, Health and Dental Insurance, and Travel Insurance. Count on us for all your No-Medical and Simplified Issue insurance needs.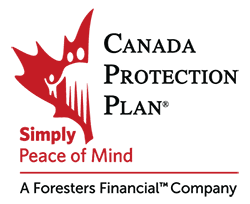 Canada Protection Plan is one of Canada's leading providers of No Medical and Simplified Issue Life Insurance.
Our mission is to provide reliable protection and compassionate service from coast to coast with easy-to-purchase life insurance, critical illness insurance and related products. Our expanding product choices will help you get the coverage and peace of mind you need for a better financial future. Canada Protection Plan products are available through over 25,000 independent insurance advisors across Canada.