How we live and interact has changed dramatically over the past year, and perhaps one of the biggest changes for many has been the shift to remote work. We've traded in our cubicles, water coolers and conference rooms for a desk strategically squeezed into the guest bedroom: our new home office! While this change has allowed us to ditch our commutes and work in our coziest pair of pants, the trade-off is a spike in the incidences of burnout.
Amid limited opportunities for social and recreational engagement over the past year and the need to work within our family spaces, many face feelings of isolation and anxiety. With the blurred lines between our professional and personal lives, these feelings compound. Thanks to work taking place within the spaces in which we live (teach, exercise, and unwind), powering down our working brains is a challenge.
Zoom fatigue has also reared its ugly head. Now that "zooming" is a verb. It has become thoroughly ingrained in our professional culture as an alternative to in-person meetings. Unfortunately, we've all grown tired of it. According to a study done by Stanford University, Zoom fatigue is surfacing due to a few key factors:1
Up close eye contact for an extended time is intense and can be emotionally demanding.
Looking at your face in real-time is exhausting.
The cognitive load of a video chat is much higher than a regular phone call. Usually, when we see people face-to-face, we rely heavily on nonverbal cues. We have to work a lot harder to send and receive these cues when we're on a video chat.
Considering that many organizations are deciding to make a permanent shift towards remote workplaces, it is essential to be mindful of the risk of work-from-home burnout and proactively implement changes that help you achieve a healthy balance between your work and home spheres.
As an employer, understand that this transition impacts your team members differently; check in with your employees to ensure that they have the tools and the support they need to navigate this change. And most importantly, leadership should encourage a culture of boundaries.
Understanding the key signs of work from home burnout is critical, but actively taking the steps towards prioritizing a balanced lifestyle is the most effective form of prevention!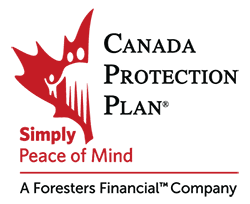 Canada Protection Plan is one of Canada's leading providers of No Medical and Simplified Issue Life Insurance.
Our mission is to provide reliable protection and compassionate service from coast to coast with easy-to-purchase life insurance, critical illness insurance and related products. Our expanding product choices will help you get the coverage and peace of mind you need for a better financial future. Canada Protection Plan products are available through over 25,000 independent insurance advisors across Canada.