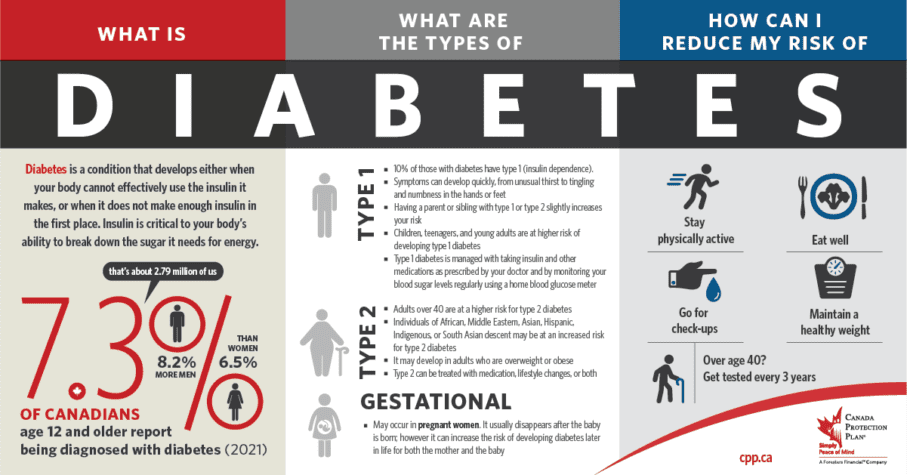 This cover has been designed using resources from Freepik.com
What is diabetes?
Diabetes is a condition that develops either when your body cannot effectively use the insulin it makes, or when it does not make enough insulin in the first place. Insulin is critical to your body's ability to break down the sugar it needs for energy.
7.3% of Canadians (that's about 2.79 million of us) age 12 and older report being diagnosed with diabetes (2021)
More men (8.2%) than women (6.5%) have diabetes in Canada1
What are the types of diabetes?
Type 1 diabetes2
10% of those with diabetes have type 1 (insulin dependence).

 

Symptoms can develop quickly, from unusual thirst to tingling and numbness in the hands or feet

 

Having a parent or sibling with type 1 or type 2 slightly increases your risk

 

Children, teenagers, and young adults are at higher risk of developing type 1 diabetes

 

Type 1 diabetes is managed with taking insulin and other medications as prescribed by your doctor and by monitoring your blood sugar levels regularly using a home blood glucose meter

 
Type 2 diabetes3
Adults over 40 are at a higher risk for type 2 diabetes

 

Individuals of African, Middle Eastern, Asian, Hispanic, Indigenous, or South Asian descent may be at an increased risk for type 2 diabetes

 

It may develop in adults who are overweight or obese

 

Type 2 can be treated with medication, lifestyle changes, or both

 
Gestational diabetes
May occur in pregnant women. It usually disappears after the baby is born; however it can increase the risk of developing diabetes later in life for both the mother and the baby
How can I reduce my risk for developing diabetes?
Stay physically active and eat well 

 

Maintain a healthy weight and go for regular medical check-ups

 

Avoid foods high in trans fats and sugars 

 

High blood pressure

 

High blood cholesterol

 

Overweight and/or abdominal obesity

 

Giving birth to a baby larger than 4 kg or 9 lb.

 

Schizophrenia

 

Acanthosis nigricans (skin folds or darkened patches of skin in places such as the arm pit)