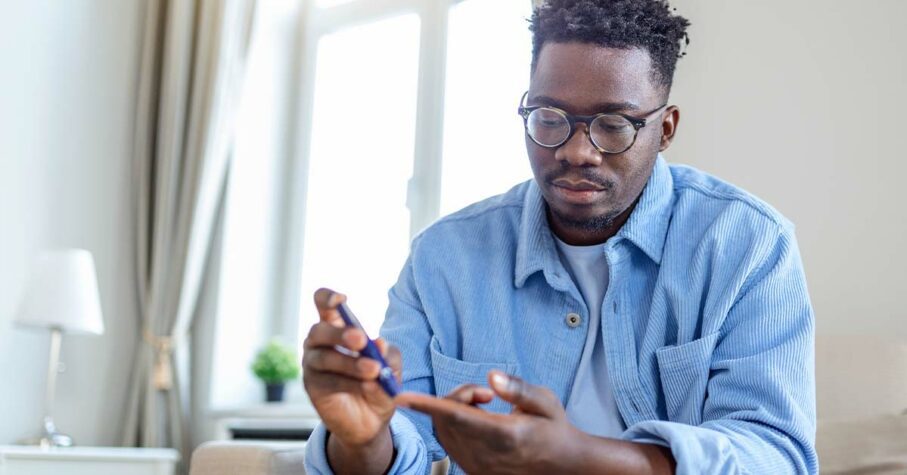 People living with diabetes sometimes have difficulty finding the right life insurance. Still, some products are ideally suited to people with this pre-existing condition. In this article, you'll read about the factors that weigh into the choice of life insurance products and the best options for people living with diabetes.
Diabetes Basics
Diabetes is a chronic condition that affects how your body stores and uses glucose (sugar). Typically, your body converts the sugars in the food you eat into glucose, which circulates in the bloodstream transporting to all your body's cells for energy. If this process fails, too much glucose stays in the bloodstream. Over time, this can result in serious medical problems, including an increased risk of heart disease and stroke, kidney disease, and problems with vision. 
Insulin, a hormone produced by the pancreas, signals cells to take glucose from your bloodstream and is involved in all types of diabetes.
With type-1 diabetes, the pancreas doesn't produce insulin. People living with Type 1 diabetes self-administer synthetic insulin to treat their condition.
With type-2 diabetes, the pancreas does produce insulin, but the body isn't able to recognize or use it properly. Diet and medication are the most common ways to treat type-2 diabetes.
Gestational diabetes affects pregnant people. This type of diabetes usually resolves on its own after the baby is born and shouldn't affect a person's eligibility for life insurance. However, people who have had gestational diabetes have a higher risk of developing type-2 diabetes later.
Pre-diabetes means that your blood sugar levels are higher than average but not high enough to diagnose type-2 diabetes. Most people with pre-diabetes don't even know they have it. However, it still raises your risk of medical complications, including the risk of developing type-2 diabetes down the road. Lifestyle and diet changes can control pre-diabetes.
In 2019, about one-third of Canadians lived with diabetes or pre-diabetes, mostly with type-2 diabetes. 
Life expectancy estimates generally determine life insurance rates. Many life insurance providers consider diabetes (especially severe diabetes) a life-threatening condition. It can be more difficult for people with diabetes to get life insurance, and premium rates tend to be higher.
People living with diabetes are generally asked to disclose the details of their condition when they apply for life insurance. The disclosure often includes the diabetes type, length of diagnosis, severity, interactive factors, and how it's managed (ex: changing their diet, using insulin, monitoring blood sugar). Failing to make a true and full disclosure can result in a claim under the policy being denied.
Life insurance rates tend to be higher for people with type-1 diabetes than people with type-2 diabetes. Type-1 is diagnosed earlier in life. There are fewer treatment options, so it has more years and more opportunities to affect the organs than type-2.
If you live with diabetes, it may sound like your life insurance options are extremely limited, so you may be surprised to hear that you have a range of them.
You may still be able to get traditional life insurance depending on the specifics of your condition. You'll have to answer medical questions for this type of life insurance and undergo a physical exam and medical testing.
You can also apply for No Medical or Simplified Issue life insurance. You won't have to undergo a physical exam, have blood drawn, or get a statement from your doctor. You will have to answer questions about your health and medical conditions, and decide which plan is right for you and your family. 
Permanent and term policies are the two major types of life insurance.
Permanent life insurance covers you for your whole life, and is designed to pay out the death benefit when you pass away. This type of insurance can be used to cover final expenses and provide financial support or legacy gifts for your loved ones. The payments for permanent life insurance are higher. Still, they generally stay the same over time, and your policy never needs to be renewed.
Term life insurance is usually for 10, 20, 25, or 30 years. The rates are lower than permanent life insurance, but term policies are renewable when the term is up. This type of insurance can be suitable for families with financial obligations that need to be covered if the policyholder passes away, such as mortgage payments, tuition, or outstanding debt.
Deciding between permanent and term life insurance means doing an honest and thorough assessment of your family's present and future needs. These can be challenging discussions, but life insurance is an investment in your family's future comfort and safety. You want to be sure you're taking all their needs into account. 
Canada Protection Plan
Canada Protection Plan offers more permanent life insurance and term life insurance options than any other No Medical provider in Canada. Our plans include Guaranteed Acceptance Life, a plan for significant health challenges like severe diabetes. Deferred Elite Term for people with significant health issues or people who have been turned down for insurance in the past, and of course, a range of products for good and excellent health people.
There's no better time than the present to get life insurance. You'll find that it gives you peace of mind to know that your family won't face a financial burden if you pass away. Review our No Medical & Simplified Issue Life Insurance. We're confident that you'll find one that's perfect for you. While you're there, try our Quick Quote tool to see how (surprisingly) low your payments could be!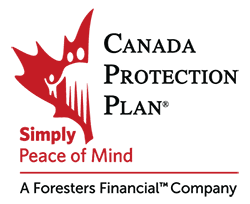 Canada Protection Plan is one of Canada's leading providers of No Medical and Simplified Issue Life Insurance.
Our mission is to provide reliable protection and compassionate service from coast to coast with easy-to-purchase life insurance, critical illness insurance and related products. Our expanding product choices will help you get the coverage and peace of mind you need for a better financial future. Canada Protection Plan products are available through over 25,000 independent insurance advisors across Canada.